Zurich, 20 January 2022 – Westhive AG, one of the largest providers of flexible office space in Switzerland, is starting 2022 with a new opening. The Westhive Campus in Zollikon expands the existing offering with a location on the right bank of Lake Zurich and is the seventh Westhive location in total.
Westhive Campus in Zollikon is particularly suitable for teams and companies looking for their own office in this region. The offices are designed for two or three people and can be combined to form larger units. The offices on the upper floors facing Lake Zurich also offer spectacular lake and mountain views.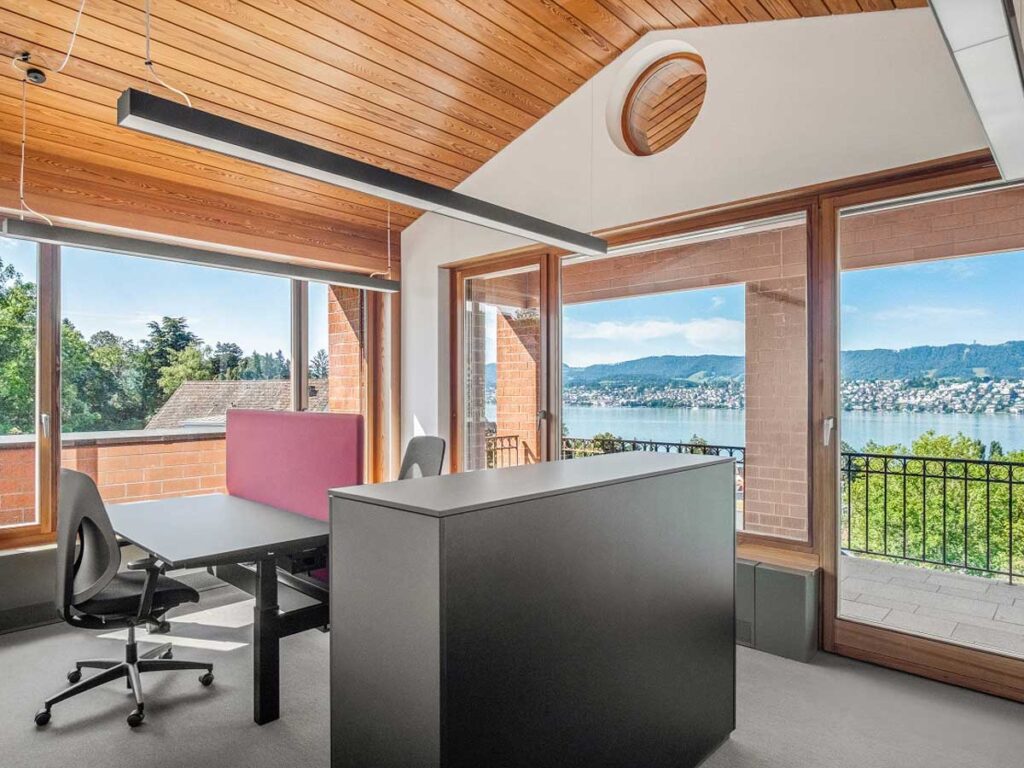 The Westhive Campus, which is operated in cooperation with Walde Immobilien, also offers several other special features. One highlight is the generous garden area with a shady pergola that invites you to hold workshops or meetings outdoors in summer – a welcome addition to the site's ten meeting rooms. The in-house bistro «Lago» also has an outdoor area with a beautiful terrace in addition to the cosy indoor area. The in-house parking garage as well as good connections to the Zurich public transport network guarantee easy accessibility.
«The location in Zollikon optimally complements our range of services in the Zurich area, » Bruno Rambaldi of Westhive is pleased to say. «We now have a location that is perfect for everyone who is oriented towards the right side of the lake. And the collaboration with Walde Immobilien guarantees that Westhive members benefit from perfect infrastructure and support on site. »
The Zollikon location is now open to all interested parties. Westhive Stettbach will open in March, followed by new locations in Basel and Zug in late summer.
About Westhive
Westhive AG is one of the largest providers of flexible office solutions in Switzerland. Over 1100 workstations with a complete service infrastructure are available at Rosental Mitte in Basel and at the Hardturm, Hürlimann Areal, Seestrasse, Bleicherweg and new Stettbach Mitte and Zollikon locations in Zurich. Further locations in Geneva, Basel and Zug have already been announced. Prominent Westhive members include strategic partner Swiss Startup Group, Valora, AMAG Innovation & Ventures Lab, Galenica, Philips, Concordia Insurance, Sparrow Ventures (Migros), Too Good to Go and over 50 different start-ups and companies from a wide range of sectors.
About Walde Real Estate AG
Walde Immobilien AG was founded in 1985. Its core competence lies in the marketing (sale and rental) of residential and investment properties in the Canton of Zurich, Aargau and Central Switzerland. Over 60 employees work at the six locations in Baden, Lucerne, Sursee, Thalwil, Uster and Zollikon. Since its foundation, Walde Immobilien AG has brokered around 8,000 properties with a total value of over CHF 12 billion. Around 40% of the turnover is achieved with existing properties, 30% with new construction projects and 30% with investment properties.
www.walde.ch
More information
Claus Bornholt
[email protected], 079 621 68 13
Westhive AG, Hardturmstrasse 161, 8005 Zürich
www.westhive.com