Zurich, 22 September 2021 – Westhive AG, one of the largest providers of flexible office space in Switzerland, will open its fifth Zurich location in early 2022. Located directly at the Stettbach train station, the new Stettbach Mitte building will offer 1500 square metres of state-of-the-art space with private offices, lounges and coffee corners, a spacious meeting area, its own gym and a large restaurant on the ground floor. At the same time, the Zurich Hardturm location will be further expanded. This will increase Westhive's offering of flexible office space in Zurich to over 1000 workplaces.
Stettbach can boast some remarkable statistics. With 9 million passengers per year, Stettbach station is one of the busiest railway stations in Switzerland. The Samsung Event Hall can accommodate up to 5000 guests. More than 600 companies have set up shop around Stettbach station, including well-known names such as Helsana and Huawei. And the S-Bahn takes you to Stadelhofen in 4 minutes, Zurich Main Station in 8 minutes, Winterthur in 12 minutes and Zurich Airport in 20 minutes.
Directly opposite Stettbach station, in the Stettbach-Mitte development, Westhive will open its next location in January 2022. On the first floor, there are around 120 workstations in private team offices, all fully equipped with height-adjustable desks, office chairs and storage space. Other features of the office space include several meeting rooms of varying sizes for up to 20 people, a lounge with adjacent coffee corner and a separate gym for Westhive members.
Rendering of the restaurant at Westhive Stettbach MitteThe new restaurant, The Westhive Kitchen, is located on the ground floor and is open to Westhive members, office workers and local residents for coffee, lunch and after-work drinks. Culinary, The Westhive Kitchen in Stettbach follows the concept of the restaurant of the same name in Zurich's Hardturm: fresh and simple – freshly prepared dishes for an uncomplicated meal in a cosy atmosphere.
With its excellent location at Stettbach station, full facilities and excellent accessibility, Westhive Stettbach Mitte is the perfect location for companies looking for flexible office space in the north of Zurich.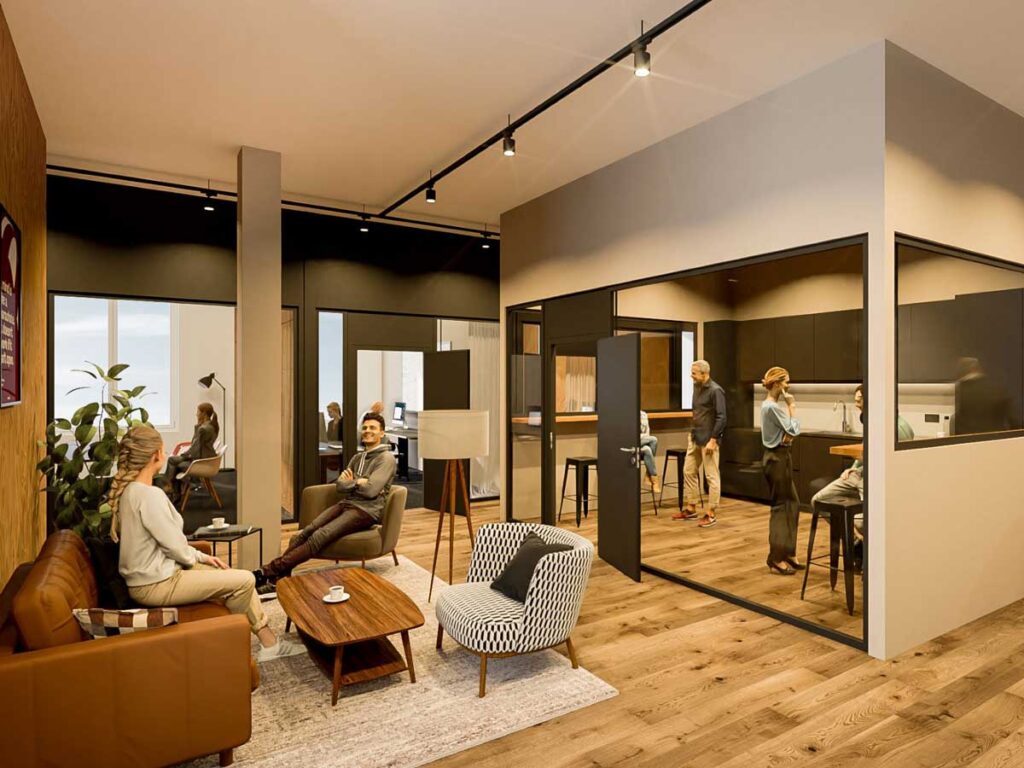 Rendering of Office B Parallel to this, the Westhive site on Zurich's Hardturmstrasse is also being expanded. Around 100 new workplaces will be created here by the beginning of 2022. The highlight of this new area will be a south-west-facing lounge with a roof terrace on the 2nd floor of the building. An expansion of the event area in the Hardturm is also planned.
With the new space, Westhive offers more than 1000 fully equipped workstations in flexible leasing models with state-of-the-art office infrastructure in Zurich. Together with subsequent projects in Basel, Zug and Geneva, the offer will soon grow to around 2000 workstations throughout Switzerland.
About Westhive
Westhive AG is one of the largest providers of flexible office solutions in Switzerland. Over 1100 workstations with a complete service infrastructure are available at the Zurich locations Hardturm, Hürlimann Areal, Seestrasse, Bleicherweg and the new Stettbach Mitte, as well as in Basel's Rosental Mitte. Further locations in Geneva, Basel and Zug have already been announced. Prominent Westhive members include strategic partner Swiss Startup Group, Valora, AMAG Innovation & Ventures Lab, Galenica, Philips, Concordia Insurance, Sparrow Ventures (Migros), Too Good to Go and over 50 different start-ups and companies from a wide range of sectors.
More information
Westhive
Claus Bornholt
[email protected], 079 621 68 13
Westhive AG, Hardturmstrasse 161, 8005 Zürich
www.westhive.com
Stettbach Mitte
Weitere Informationen zu Stettbach Mitte auf www.stettbach.ch