Zurich, 11 March 2020 – Westhive opens its first location outside of Zurich in Basel's Rosental Mitte. The new location is the starting point for the nationwide expansion of Westhive, currently the fastest growing provider of flexible office space, team offices and coworking workplaces in Switzerland.
Located in the immediate vicinity of the Basel Exhibition Centre and the Badischer Bahnhof train station, the first step will be to create around 140 workstations in a historic building on Rosentalstrasse. In Basel, as in all other Westhive locations, the focus will be on team offices that can be flexibly rented. The offer is complemented by a cosy lounge on the ground floor of the building, a small garden, various kitchenettes and other amenities such as showers, bicycle parking and storage facilities.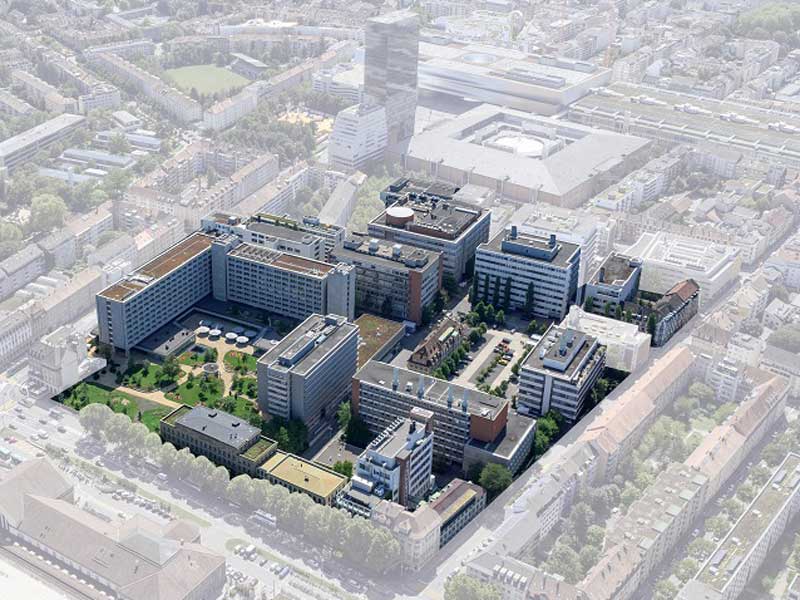 The Westhive site in Basel is being planned in close collaboration with the canton of Basel-Stadt, represented by Immobilien Basel-Stadt. In 2016 and 2019, the canton will successively acquire the Rosental Mitte site, long the headquarters of the Geigy company and now home to Syngenta's headquarters and various research and educational institutions. In the coming years, the canton plans to gradually open up the site to new uses under the motto «work, research, live, meet». «For us, the opening of the Westhive site in Basel is emblematic of the desired development of Rosental Mitte: contemporary forms of work, innovative companies, cooperation, exchange and encounter – as well as an open and mixed culture. We are very pleased that Westhive, as the first company directly accessible from the outside, symbolises the transformation and opening up of the area so aptly,» says Rolf Borner, Managing Director of Real estate Basel-Stadt.
The house on Rosentalstrasse is only the first step for Westhive in Rosental Mitte in Basel. «In two years' time, we will be moving into another building in the immediate vicinity of the current one. There will be much more space available,» says Bruno Rambaldi, co-founder of Westhive, «and we will be able to better meet our demand for quality-oriented, modern workplaces with a high standard of service.»
Westhive Rosental Mitte in Basel is the fifth Westhive location in addition to Zurich. This means that Westhive now offers over 800 flexible workspaces, around 80% of which are private team offices.
About Westhive
Westhive AG opened its first coworking location at Hardturmstrasse 161 in April 2018. Together with the other locations at the Hürlimann Areal in Zurich, Seestrasse in Wollishofen, Bleichweg and the new Rosental Mitte in Basel, around 800 workstations with a full service infrastructure will be available from spring 2020. Other locations are in preparation. Prominent Westhive members include the strategic partner Swiss Startup Group, the Valora Digital Innovation Lab, the AMAG Group's Innovation & Ventures Lab, the LafargeHolcim startup MAQER and over 25 different startups from a wide range of industries.
More Information
Westhive
Claus Bornholt
[email protected], 079 621 68 13
Westhive AG, Hardturmstrasse 161, 8005 Zürich
www.westhive.com
Real estate Basel-Stadt
Barbara Rentsch
Head of Portfolio Management
[email protected], 061 267 99 68
More information about Rosental Mitte on www.rosentalmitte.ch