Zug, 15 June 2021 – The Metall Zug Group is investing in a new part of town for an industrial ecosystem on the historic V-ZUG site in Zug. With the Tech Cluster Zug, it is setting an example for the future of industry. Thanks to the concrete implementation of new sustainability concepts, an attractive innovation quarter with great charisma is being created. Westhive AG is also part of this extraordinary transformation. In close cooperation with Tech Cluster Zug AG, Westhive is opening a flexible workspace location of over 2,000 square metres in the middle of the site.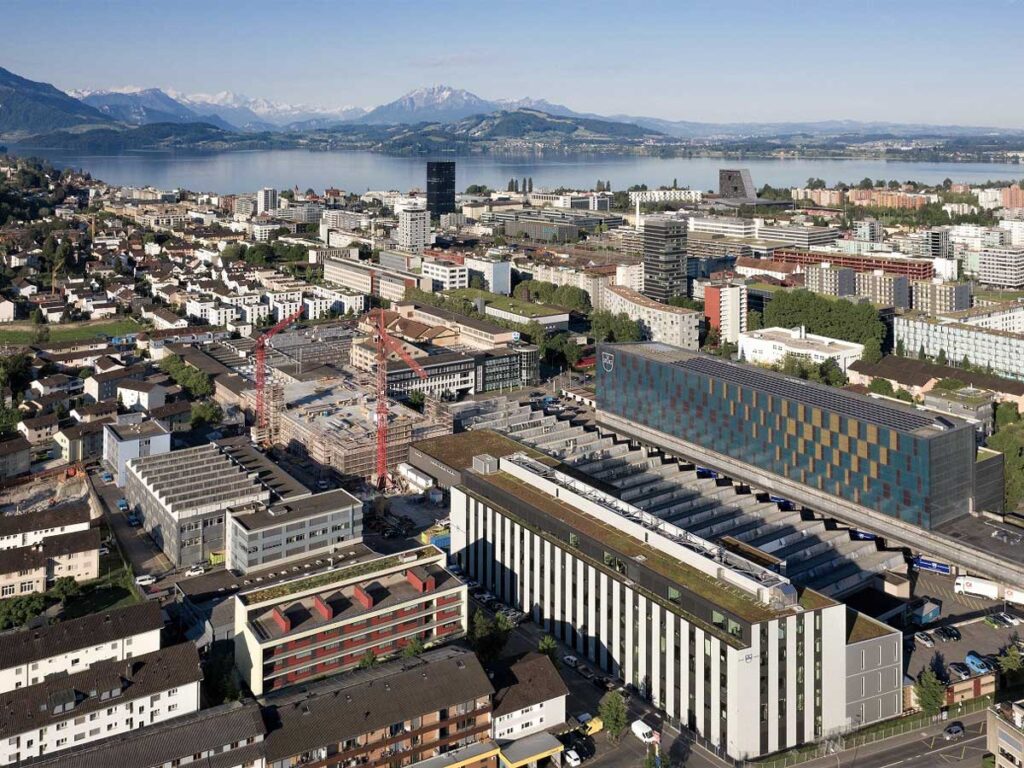 The starting point for the Tech Cluster Zug (TCZ) project is the strategic renewal of the V-ZUG factory site. The modernisation and spatial concentration of V-ZUG's production will enable additional industrial companies, start-ups, technology-related services, training facilities and housing to be established here.
In a light-flooded, completely renovated and air-conditioned shed hall, Westhive is creating more than 2,000 square metres of flexible workspace, most of it in the form of private offices. In addition to spacious lounges and a first-class meeting infrastructure, Westhive's workspace includes a coffee bar, a fully equipped team kitchen and a dedicated gym exclusively for members. The rooftop terrace is the perfect place to meet during or after work, with fresh air and spectacular views of the Alps. «We are delighted to have found such a suitable location in Zug,» says Bruno Rambaldi, co-founder of Westhive. «And with Metall Zug we have an ideal partner for the realisation.»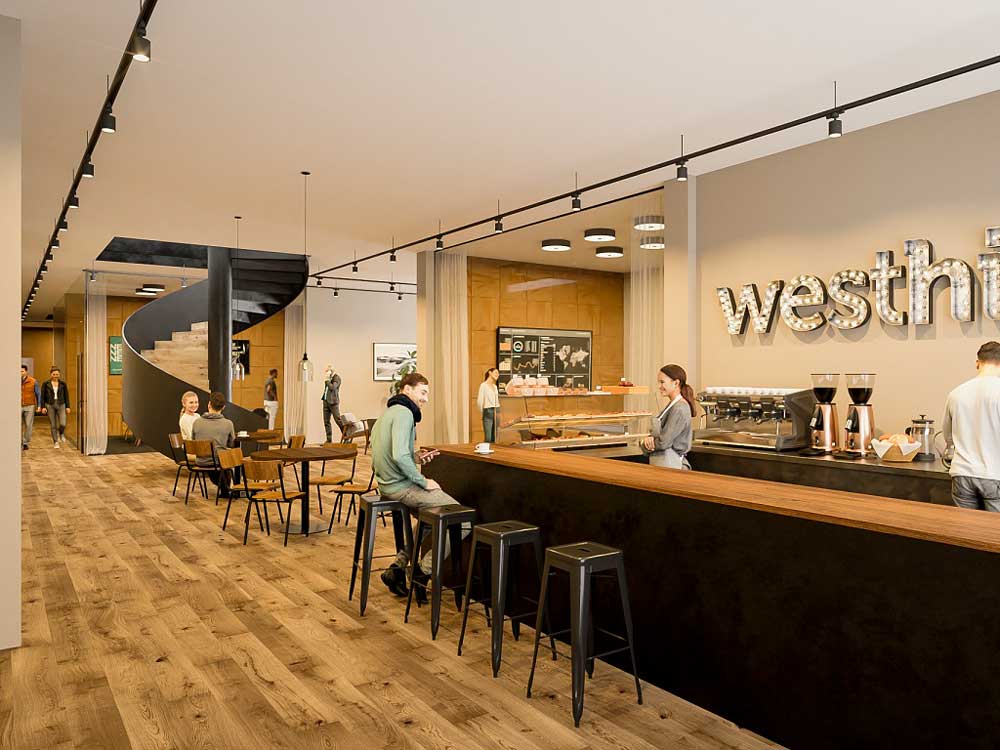 The Tech Cluster Zug will be supplied with all the necessary energy in a climate-neutral way via a multi-energy hub that is unique in Switzerland. In the coming years, new outdoor spaces with squares, alleys and meadows will be created, as well as new neighbourhood amenities with restaurants, daycare centres, conference facilities, etc. «We want to develop a sustainable piece of the city that combines production, research and development, commerce and living in a small space with a high urban development quality,» says David Carnier, who is responsible for the Westhive project on behalf of Tech Cluster Zug AG, a subsidiary of Metall Zug AG. «The Flexible Workspace is an integral part of this. The concept and implementation of Westhive convinced us right away.»
Westhive Zug will open its doors in late summer 2022 in the Tech Cluster Zug at Oberallmendstrasse 18, 6300 Zug.
About Westhive
Westhive AG is one of the largest providers of flexible office solutions in Switzerland. At the Hardturm, Hürlimann Areal, Seestrasse and Bleicherweg locations in Zurich and at Rosental Mitte in Basel, around 1,000 workstations are available with a complete service infrastructure. In addition to Zug, further locations in Geneva, Basel and Zurich have already been announced. Prominent Westhive members include strategic partner Swiss Startup Group, Valora, AMAG Innovation & Ventures Lab, Galenica, Concordia Versicherungen, Sparrow Ventures, Too Good to Go and over 50 different start-ups and companies from a wide range of sectors.
About the Metall Zug Group
Metall Zug is a group of industrial companies based in Zug. The group employs
approximately 3,000 employees and comprises five divisions:
Infection Control (Belimed Group)
Medical Devices (Haag-Streit Group)
Wire Processing (Schleuniger Group)
Technology Cluster & Infra (Tech Cluster Zug AG, Urban Assets Zug AG)
Others (Life Science Solutions (Belimed Life Science AG, Belimed Life Science d.o.o.), Gehrig
Group AG und Metall Zug AG)
The holding company Metall Zug AG is listed on the Swiss Reporting Standard of the SIX Swiss Exchange,
Zurich (series B registered shares, security number 3982108, ticker symbol METN).
More Information
Westhive
Claus Bornholt
[email protected] , 079 621 68 13
Westhive AG, Hardturmstrasse 161, 8005 Zürich
www.westhive.com
Tech Cluster Zug AG
David Carnier
[email protected] , 058 768 67 94
Industriestrasse 66
Postfach
6302 Zug
www.techclusterzug.ch