The trendy, up-and-coming district of Zurich Wollishofen has a lot to offer as a place to live and work. Not only the hip location directly at the Lake Zurich or the good transport connections are convincing, but also the large selection of restaurants and leisure activities. Whether culture, sports or nature – you can find everything here. In this blog article, we give you a brief overview of why the beautiful Wollishofen district is the ideal place to work.
Public transport in Zurich Wollishofen
One of the most important factors in choosing a place to work is transport connections. From this point of view, Zurich Wollishofen is perfectly located. Thanks to the direct connection to the A3 freeway, Wollishofen can be reached very quickly from the entire left bank of the lake in the direction of southeastern Switzerland. Thanks to the Üetliberg tunnel, commuters from Central Switzerland and Aargau can also reach Wollishofen by car in no time. For example, the commute to work from Zug, Baden or Lake Walen is only half an hour.
Wollishofen also has excellent public transport connections: The train line S24 connects Schaffhausen via Zurich Airport and leads in the other direction to Zug. The S8 line connects Winterthur via Zurich HB (10 minutes) and Pfäffikon SZ. In addition, for shorter distances there is the Tramline 7 to Paradeplatz as well as bus lines in the direction of Adliswil (No. 184, 185), Mittelleimbach (No. 70), Rüschlikon (No. 165) and Kilchberg (No. 161).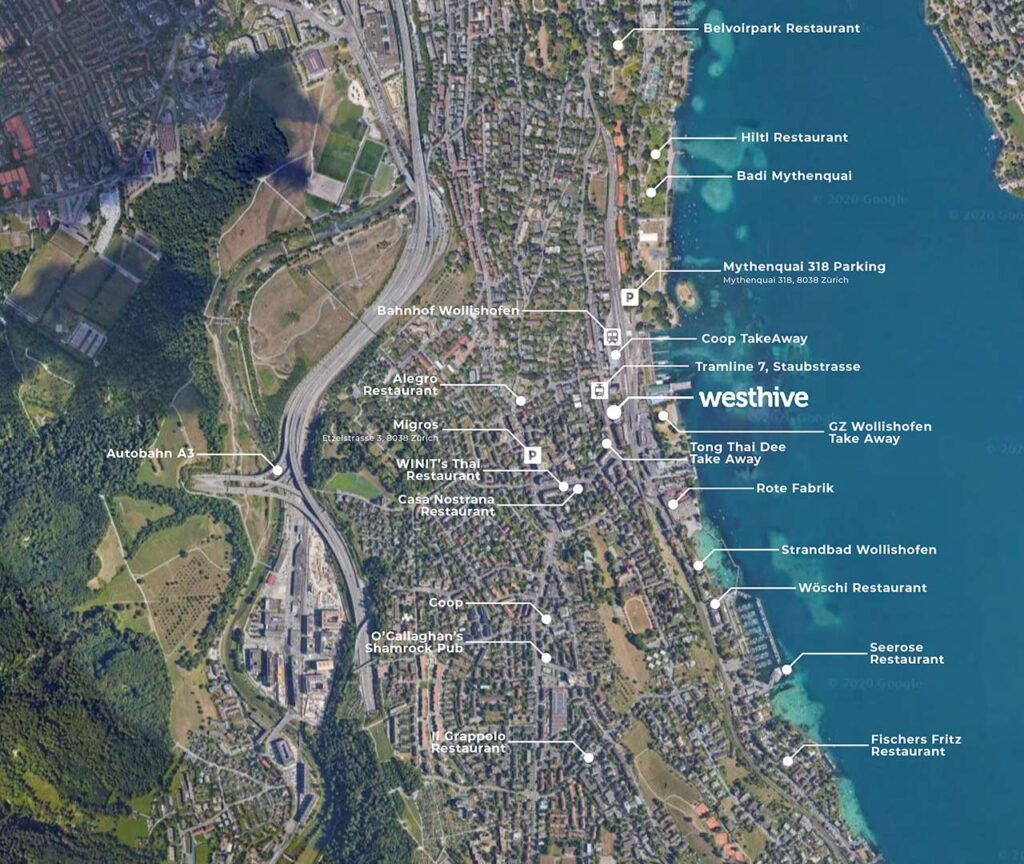 Recreation & Culture in District 2
Beautiful walks, a coffee by the lake or an active hour on a stand-up paddle. Due to its good location directly on the shores of Lake Zurich, Wollishofen has a variety of options for relaxing outside over lunch or after work. A walk along the lake shore and over the Cassiopeiasteg during the lunch break is worthwhile. Two public baths are open during the swimming season: In the beautiful Strandbad Wollishofen windsurfing courses are offered. The large Strandbad Mythenquai offers yoga courses and includes a Hiltl Restaurant. Stand-up paddels are rented at the SUP Center Supswiss and furthermore, courses are also offered there.
A visit to the Museums Rietberg in the Zurich-Enge district is highly recommended, with art from the traditional as well as contemporary cultures of Asia, Africa, America and Oceania. The alternative cultural center Rote Fabrik offers a varied program of concerts, theater and exhibitions. The Lindt Home of Chocolate in nearby Kilchberg is also worth a visit. For shopping enthusiasts, a trip to the Sihlcity, where 75 stores, 14 restaurants, 18 cinema halls and a fitness center can be found.
Restaurants in the district Wollishofen
Wollishofen is known for its large selection of restaurants for every taste and budget. Our favorites are just a few minutes walk from our Coworking Space Zürich Seestrasse and located in a beautiful setting.
The GZ Wollishofen on the lake offers a cozy cafeteria with a salad and sandwich bar, hot rolls and homemade cakes. Good Swiss cuisine with fine lunch menus can be found at Restaurant Bürgli. The Ziegel Oh Lac in the Rote Fabrik is known for its excellent and reasonably priced cuisine. For takeaways over lunch, the Thai restaurants Tong Thai Dee and Winit's Thai Restaurant are ideal. And if you're in a hurry, the kebab snack Imbiss Wollyhood is a good address.
There is a Mediterranean flair in the Restaurant Seerose, which is located directly on Lake Zurich with its own harbor and mooring spaces for boats. Fine contemporary cuisine in a relaxed atmosphere can be found in the Restaurant Wöschi. At Fischer' Fritz you will find the best fish crispies and a beautiful lake view. Two good Italian restaurants are the Ristorante Il Grappolo and the Casa-Nostrana. For business travelers, the hotel ibis Zürich-Adliswil is recommended, which has a good restaurant with delicious burgers.
Westhive Coworking in Zurich Wollishofen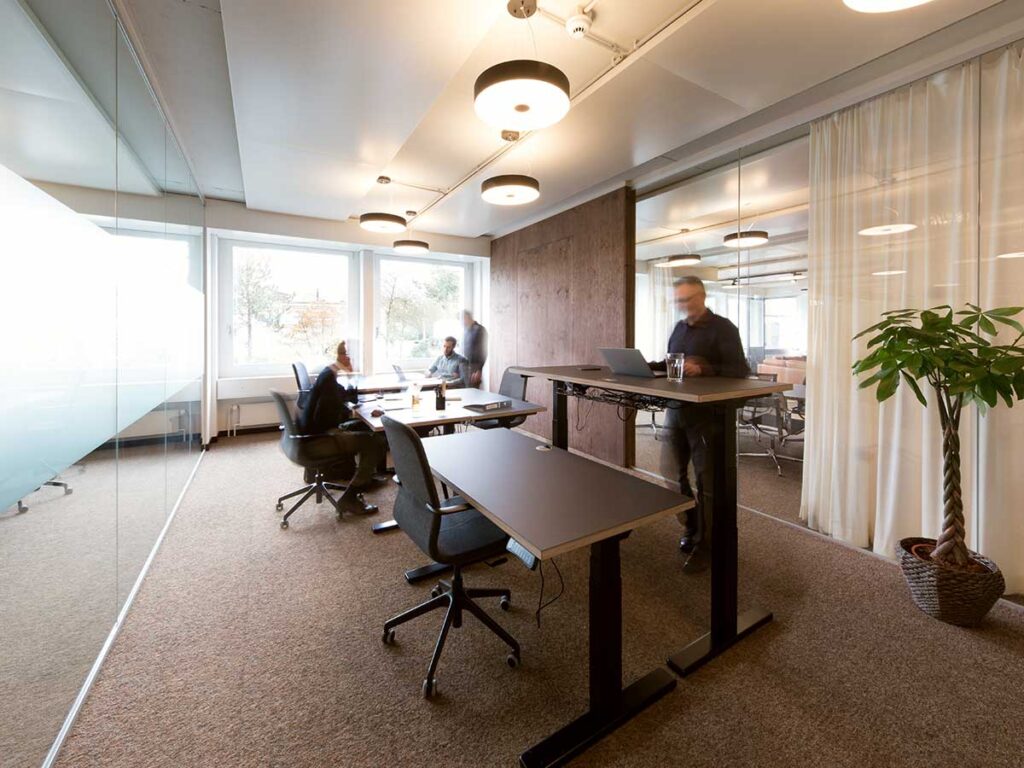 Our Coworking Space Westhive Zurich Seestrasse is located in the immediate vicinity of Wollishofen train station. This flexible office space offers 150 desks in private team offices as well as in open space, plus five meeting rooms of various sizes. Learn more about our flexible office offering in Zurich Wollishofen.