What to look for when booking a meeting room
Whether a meeting is inspiring and productive or a waste of time depends on many factors: the topic, the participants, the way the conversation is managed, the preparation and time management, for example.
The physical environment also plays an important role – something that we unfortunately often forget or ignore. A functional and appealing room helps to make a negotiation, a presentation, a workshop or a meeting a success. But what makes an ideal meeting room?
Of course, there is no such thing as THE ideal meeting room – there is only the ideal room for a particular purpose. A strategy workshop, a customer training session, a pitch presentation and a board meeting all have very different requirements for a room. «Form follows function» is the motto here.
A board room with a huge table, bulky armchairs and video conferencing equipment may be just right for an executive meeting or a contract negotiation – but it's definitely not helpful for brainstorming creative ideas in small teams. A room with conference seating is great for a presentation – but don't expect it to generate lively discussion among participants.
For an important event, it always pays to choose the venue carefully. In this article, we have compiled some aspects to consider when booking a meeting room in a coworking space, a convention center, a hotel or a community center.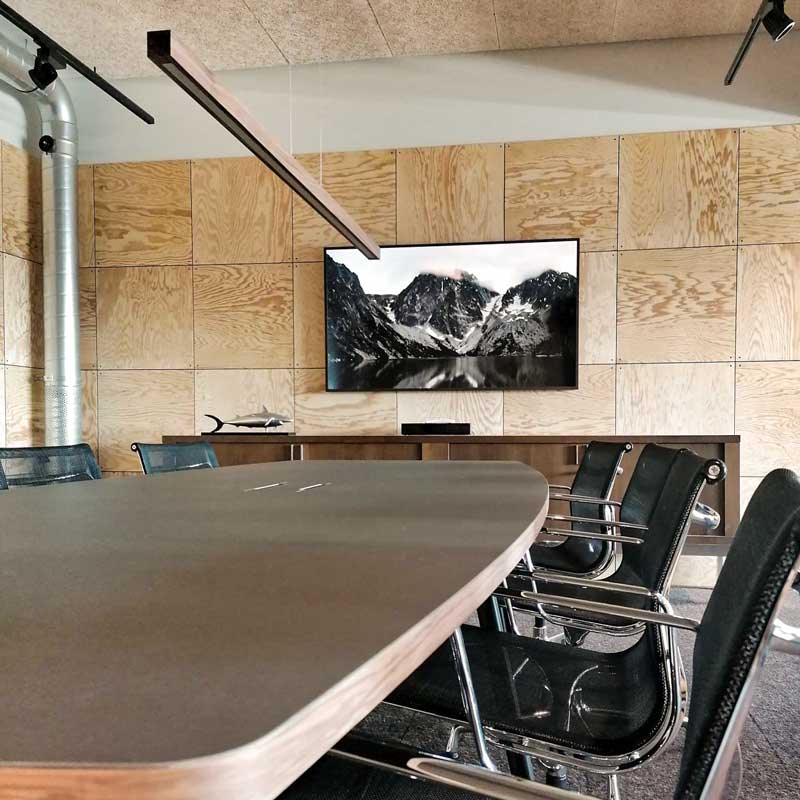 The right size
The most obvious thing to consider when choosing a meeting room is its size. This depends primarily on the number of participants, but also on how you use the room. If you wish to work in groups at times, then you need more space than with compact conference seating. In times of a pandemic, you also have to factor in the minimum distances.
It should also be noted that a meeting room can not only be too small, but too large as well. If participants get lost in a room, then it is much more difficult to motivate them to engage in intensive discussion or collaboration. In addition, you end up paying higher rental fees, which are typically based on the capacity of the room.
Light and climate
Lighting, room temperature and air quality have a significant influence on whether we feel comfortable in a room or not. If we don't, our performance and willingness to work decline: we get tired more quickly, are unfocused and irritable – and at some point the only thing we want to do is leave.
Anyone planning an important presentation, a lengthy workshop or a demanding training course will do well ensuring good lighting and a good room climate. Daylight is always valuable, but in addition, good artificial lighting is needed that is sufficiently bright and yet does not dazzle. The cold light of neon tubes is just as unsuitable for productive work as dim bar lighting. For presentations with projector and screen, sun blinds and dimmable lamps are also mandatory.
The room temperature also has to be just right. If the participants start to freeze, then at some point they no longer like to persevere; if, on the other hand, it is too warm, then they become sleepy. That's why it is important to be able to control the room temperature via a thermostat or by opening a window. If, on the other hand, one is at the mercy of a centrally controlled air conditioning system, then one can only hope that it is well set.
Westhive: Meeting rooms for every need
The Westhive coworking spaces in Basel, Geneva, Zug and Zurich offer state-of-the-art rooms for meetings, workshops and events.
At Zurich Hardturm, Zurich Seestrasse, Zurich Stettbach Mitte, Basel Rosental, Geneva Pont-Rouge and Zug Tech Cluster, a total of several dozen rooms of various sizes are available. These can also be rented by external companies, organizations and private individuals by the hour or day at attractive prices.
State-of-the-art technology, functional equipment and a contemporary design make the Westhive a top location for your meetings, workshops and presentations.
Technical equipment
Even nowadays, there are still meetings that do completely without technology. On the other hand, it is taken for granted that meeting participants are able to connect their notebook to a large screen or projector in a meeting room and connect it to the Internet. Since the Corona pandemic, video conferencing and hybrid events have also become the order of the day, and these also require a camera, microphone and loudspeaker.
Unfortunately, it's by no means a given that the technology is set up to work on the first try. Anyone who has to present in front of other people has neither the time nor the nerves to deal with extensive instruction manuals, missing adapters, incorrectly connected cables or complex control panels. A good meeting room therefore offers true «plug and play» – and, just in case, skilled supporters who are available at all times.
WiFi is something you can expect in any meeting room these days. Customer-friendly providers offer open wireless networks with sufficient bandwidth. Try to avoid a location where every meeting participant first has to register with his or her mobile number in order to activate Internet access, as is the case in certain hotels or cafés.
Ergonomics and flexibility
Table and chairs are of course available in every meeting room. However, there are big differences in the ergonomics and flexibility of the furniture.
Especially for longer meetings, comfortable chairs make a significant difference. Light padding, side rests, and perhaps even swiveling or movable chairs help keep participants engaged for a longer period of time. However, they shouldn't be too comfortable either, to avoid people falling into «leisure mode.»
Height-adjustable tables are an interesting option. This makes it possible to turn a meeting into a standing meeting, either in whole or in parts. Experience shows that this helps keeping the discussions to the essentials and thus shortening the meetings. In addition, people tend to be more active when standing than when they can lean back comfortably in a chair.
It's equally important to be able to adapt the room to your needs without much effort. Ideally, all the furniture is freely movable. For example, you can quickly switch from a plenary discussion to group work or convert seminar seating into a U arrangement. In addition to the tables and chairs, whiteboards, pinboards and flipcharts – which are of course also part of a well-equipped meeting room – should also be movable.
Look and feel
We're all familiar with the colorful, imaginatively decorated offices of US tech companies, advertising agencies and startups. This is more than marketing: we've all experienced how unmotivating a bare 08-15 meeting room can be. A modernly designed meeting room, on the other hand, boosts morale immensely. Here, colors and materials play just as important a role as furniture, lamps and pictures.
Therefore, you should never book a meeting room without at least seeing it in a photo. And insist that you get exactly the room you see in the photo – not just some room of the same category.
Catering and space for movement
Especially for workshops, seminars and retreats, which often last a whole day, the catering offer makes a crucial difference. A coffee machine, beverages and fruits not only provide the necessary sugar, caffeine and liquid intake, but also have a positive effect on the morale of the participants.
If a meeting lasts over lunch or into the evening, good catering will keep attendees much more engaged. In this case, an attractive offer of sandwiches and salads raises the mood and the blood sugar level equally. Ideally, you can book such catering with the room rental company right away and then don't have to take care of it yourself.
In addition to catering, breaks with exercise and fresh air also help to keep participants in good shape. However, this requires sufficient space for movement and outdoor areas, because if breaks must be spent in the meeting room, they do not have the same recreational value.